Stairs made of burnt granite and an authentic wall of Gedimino Ave. 64, a building in Vilnius
Stairs made of burnt granite and an authentic, reproducing wall of the building adorn the wall of Gedimino Ave. 64, a building in Vilnius
 2021 In October, JSC "Sibrusta" successfully implemented Gedimino Ave. 64, a building project in Vilnius. Using burnt granite "Kyman Red" from Finland, the masters of the stone processing center "Sibrusta" installed the steps and pre-steps of the stairs, as well as restored the authentic wall of the stairs, which reproduces the base of the building.
Due to its properties – durability, high durability, non-slip surface, minimal porosity and impregnation, resistance to impact loads, vibration, compression and weathering, burnt granite stone is a particularly suitable solution for finishing stairs and their steps, walls, floors, facades, terraces and exterior for the installation of the pavement of squares.
It is this type of stone – burnt granite was used in the construction of Gedimino Ave. the steps and pre-steps of the entrance stairs of the existing building. The image and texture of the staircase wall, which reproduces the authentic plinth of the building, is particularly striking.
The surface of the burnt stone is heated to a high temperature and then abruptly cooled, leaving its surface uneven, rough and non-slip. This is why the surface of burnt granite is especially suitable for the installation of stairs or pavements, creating a non-slip and safe surface. The color range of granite is very wide due to the natural properties of the stone, so it can be selected and combined with many details of the environment.
Coated granite floors or stairs are non-slip, practical, safe, comfortable and easy to maintain. Granite is particularly suitable for outdoor use.
For the installation of outdoor stairs, a material that is not only beautiful but also safe to operate and non-slip must be used. Thus, the rough surface of the stone allows the safe use of granite for stair decoration and the stone thus treated will not be slippery in the rain or snow. Even large, non-standard-sized stairwells can be made of large-sized granite slabs.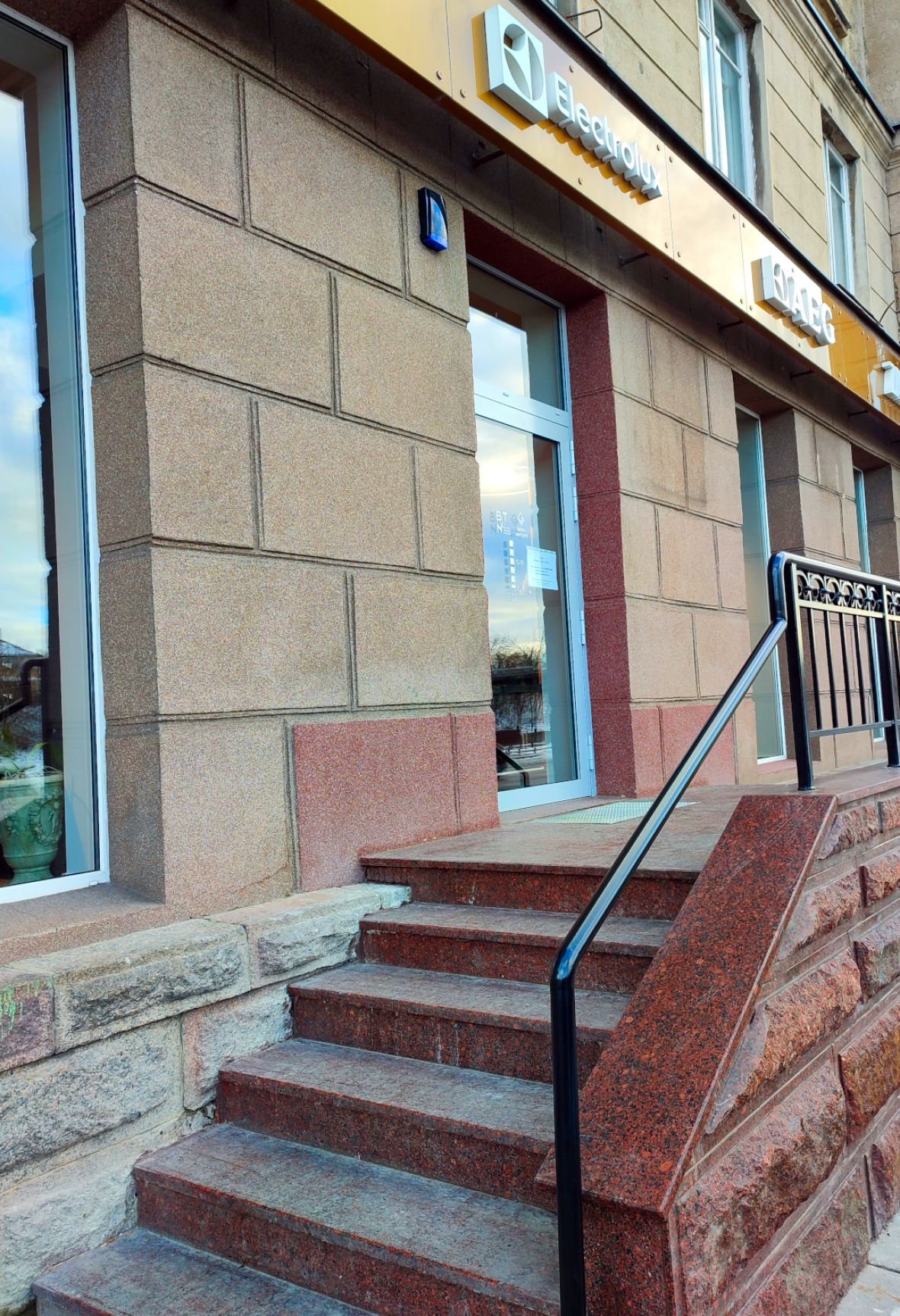 Object: 64 Gedimino Ave., Vilnius.
Year: 2021.
Contractor: JSC "Sibrusta".
Materials: "Kyman Red" Granite (Finland).
Customer: JSC "MDPro".